Feature
In those days, there were lots of variation B.C Rich guitars since the almost process was hand made. So, they were all unique for parts, parts colors, stripe , neck shapes, neck joint angles and so on. Full custom made was available.
Tuner & Head
Tuner was Grover Imperial. Now, Grover Imperial is reissued, however shape was changed. It can't direct replace. Trus Rod cover and Jack plate were made by plastic before about 1980 made. After Mid 80, they were changed to metal. 1 screw and 3 screws are existd. The body side tuners of the Bich, the earist model have screw as the tention guide and before 80's have a plastic tention guide. There are no tension guide after bridge changed models from badass.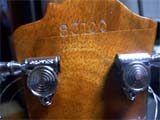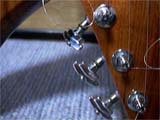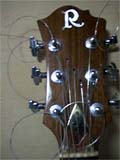 The Early "R" logo has a projection on the middle of left side.
After 83xxx have no projection, however some of 81xxx have
no projection also.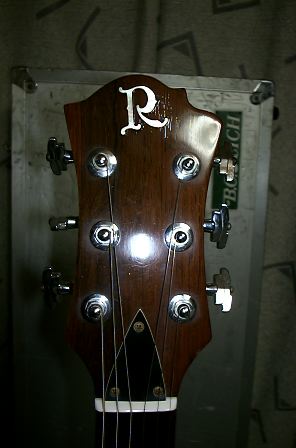 Pickups
Basicaly, Front pickup was Dimarzio PAF with 4 sield improved and Rear was Dimarzio Dual Sound( 4 sielded Super Distortion). Rarely, Bill Laurence or Hi-A was existed.The mounting ring standard color was cream. Rarely blass and black was existed.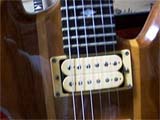 Bridge
Eagle and Mockingbird had a Badass bridge. Bich had an original B.C.Rich made bridge because of 10 strings. After mid 83xxx, Badass had been changed.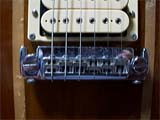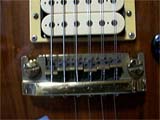 Controls
The standard control was consisted of 1 master volume, 1 master tone, 1 booster volume, 1 booster switch, 1 phase switch, 1 front PU series/parallel switch, 1 rear PU series/parallel switch and 1 varitone switch. Bich has additional 1 booster switch and Front volume. Varitone switch control LC filter like a fixed wah pedal. Some cheeper model has no active circuit. Before 78xxx, they have red head swithces and there is a single coil tap switch for front and rear pick up at the same time.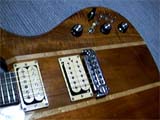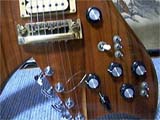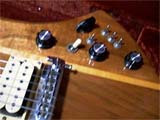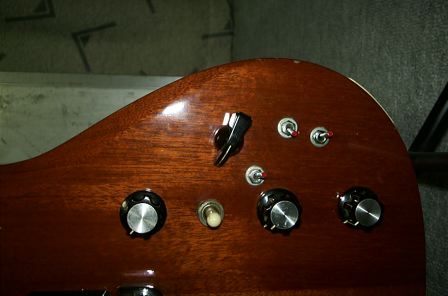 Neck
The Grip and Shape are all unique. Bich is more wider because of 10 strings. The joint angle is more deeper late 70's models than 80's models. Finger board is rosewood.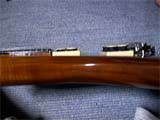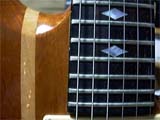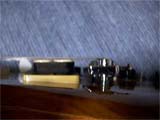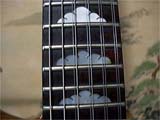 5 pieces body construction
The basic configuration is 5 pieces sandwiched body. The most popular configrations are Koa-Maple(stripe)-Koa-Maple(stripe)-Koa or reversed version. The vintage B.C.Rich guitars have wider stripes than current reissued models. Wood materials are all solid, not laminated top. Now, Koa wood models are obsoleted. Rerely, Wallnuts , Rosewood and Mahogany were used.